Top 10 things to do in the summer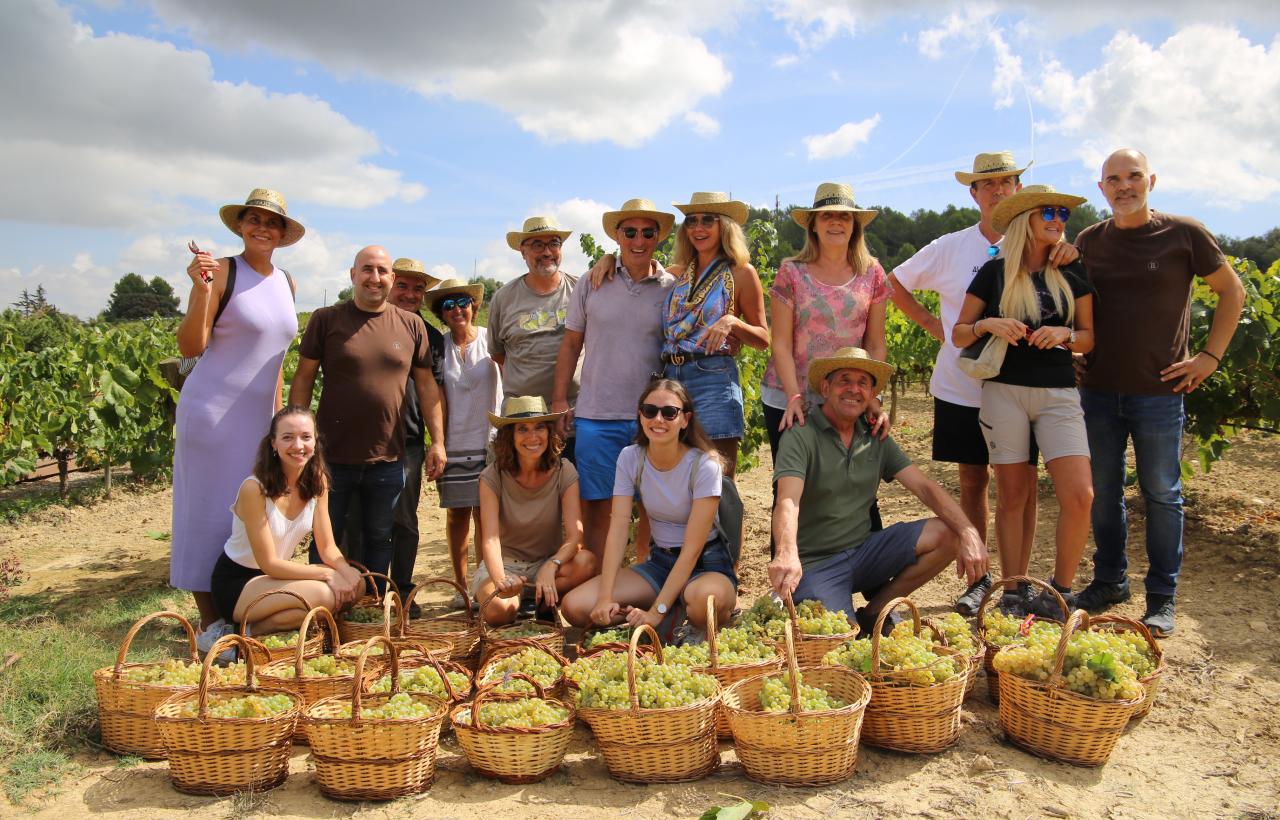 1. Refreshing tastings at the wineries
The tunnels and underground cellars of the wineries can be a good refuge to avoid the summer heat. A wine tour and tasting in a winery is one of the most refreshing ideas for the season. There are more than 70 wineries in Penedès Wine Route, which offer more than 40 tour options, for all tastes and budgets. 

2. Gastronomic and theme nights
In the summertime, cool events happen when the sun goes down. The night becomes a neverending fest of outdoor tastings, patio dinners and summer concerts in wineries and restaurants. There are big events on the calendar, such as the Corpinnat Gastronomic Festival. Make room in your agenda for delicious summer night dates in Penedès! 
3. Cool off in the Baix Penedès and Garraf beaches
Beach days are a must on a summer vacation! If you are staying in a rural house in inland Penedès, the connection via the C-15 road will take you to the coast in 20 minutes. The wide, shallow, fine sandy beaches and the many water activities are guaranteed success.
After frolicking in the beach, get to know the old town of these fishing villages and see a complete different side of them, with museums, romantic and art-noveau architecture and lots of cultural spots. Follow our guide to the coastal towns of Penedès.
4. A history class
Are you up for a tour through history? You can start with the medieval times with guided visits to the castles of Gelida, Subirats, Castellet and Sant Martí Sarroca. 
The remains of Romanesque are present in the monastery of Sant Sebastià de les Gorgs, in the sanctuary of the Virgin of Foix, patron saint of Penedès or in Sant Valentí in Les Cabanyes with a very dynamic interior mapping. These attractions open on weekends or specific days for visits, so you will need to plan in advance. 
The best example of gothic architecture in Penedès is the Basilica of Santa María. During spring and summer, there are guided tours that take you up to its bell tower, finishing up with a glass of wine and a beautiful sunset. 
Different periods of history have left their mark on the Castell de Penyafort, and all of them are explained in the guided tour that takes place on Sundays. 
A must-see is the Olèrdola Castle heritage site, opened to the public in 1971. It was also declared a Cultural Asset of National Interest in 1931 and an Asset of Cultural Interest, thanks to its archaeological, historical and monumental importance. Today is also one of the locations of the Museum of Archeology of Catalonia.
The complex is a 4,000-year-old settlement in the nowadays Olèrdola Regional Park, where you can take many itineraries on foot.
5. The summer playlist
During the summer months, music is played in every corner. On the first weekend of July, Vilafranca del Penedès hosts the Vijazz Penedès, with an international line-up and a lively wine fair. The Festival de Música a les vinyes in Subirats transforms the charming tiny village of Torre-ramona into a stage for different concerts during the summer.
Combine wine and music in wineries and in their Wine Bars, which schedule live music, DJ sessions and even their own festivals, such as Instants Festival at Cellers Carol Vallès.
6. Penedès Harvest Fest
Everything is hectic during the harvest season in Penedès. Workers are busy picking grapes from early morning to avoid high temperatures, winemakers are on duty 24 hours a day and there is always a frenzy of visitors who do not want to miss the magic transformation of grapes into wine... nor the fun harvest activities of the season!
During the whole month of September, we celebrate Penedès Harvest Festival with picnics in many wineries. There is also a long list of experiences around the harvest, for families, beginners or enthusiasts. Definitely, a great season visit Penedès.  
>> Harvest Festival in the Penedès
7. Catch the breeze in the northern towns of Penedès
The innerland and higher areas of Penedès area are breath of fresh air in the schorching summer days. You will find a landscape of Mediterranean forest spluttered with vineyards here and there, so there are cooler temperatures, especially at night.
Enjoy the tranquility of the rural area and disconnect from the world, follow forest trails and itineraries looking under the shadows of trees. Book a rural house in the inland villages of Penedès and dedicate time to yourself.
8. Explore the region on wheels
One of the best ways to explore the Penedès valley is by bike. It is also the most respectful and sustainable for our landscape. Our Wikiloc and Bikemap profiles will help you find routes like Penedès360. 
For shorter and leisure routes, you may take the Rodalies train and stop at the Lavern-Subirats station, the starting point of 3 circular routes visiting wineries, attractions and villages. We recommend the 16km Ruta del Mirador, which reaches the Miravinya La Bardera viewpoint, the Subirats Castle or the medieval site of Torre-ramona.
At the Lavern-Subirats train station you will also find Enobicing, where you can rent your bike and book a guided or self-guided tour. 
9. Family games
Did you know that there are many family-friendly activities in Penedès? You'll find things to do for all ages and to suit your travel style.
You'll love discovering our villages through interactive games and scavenger hunts, such as A la recerca dels Vitis [Searching the Vitis], cute little characters that you need to find so they can take you on and adventure and show you the most beautiful corners of the Penedès.
In addition, the vineyard paths, beaches, parks and natural areas allow us to enjoy walks, bike routes and outdoor and adventure activities. Tourist attractions and museums help understand our most curious traditions and origins. And of course, you can visit wineries and taste grape juice, have a picnic among the vineyards and have fun and educational activities related to the world of wine, especially designed for children of all ages.
10. Experience the local folklore, festivities and Festes Majors
The summer calendar is really tight when it comes to local festivities and folklore. The Festes Majors (the main festivities in each town) are the most anticipated and most locals are actively involved with emotion and pride. Mornings, afternoons and nights are packed with activities for children and adults, folkloric representations, dances, fire and fireworks, parades and castellers (human castles) that we all celebrate and experience with emotion.