Unique venues for meetings and events surrounded by vineyards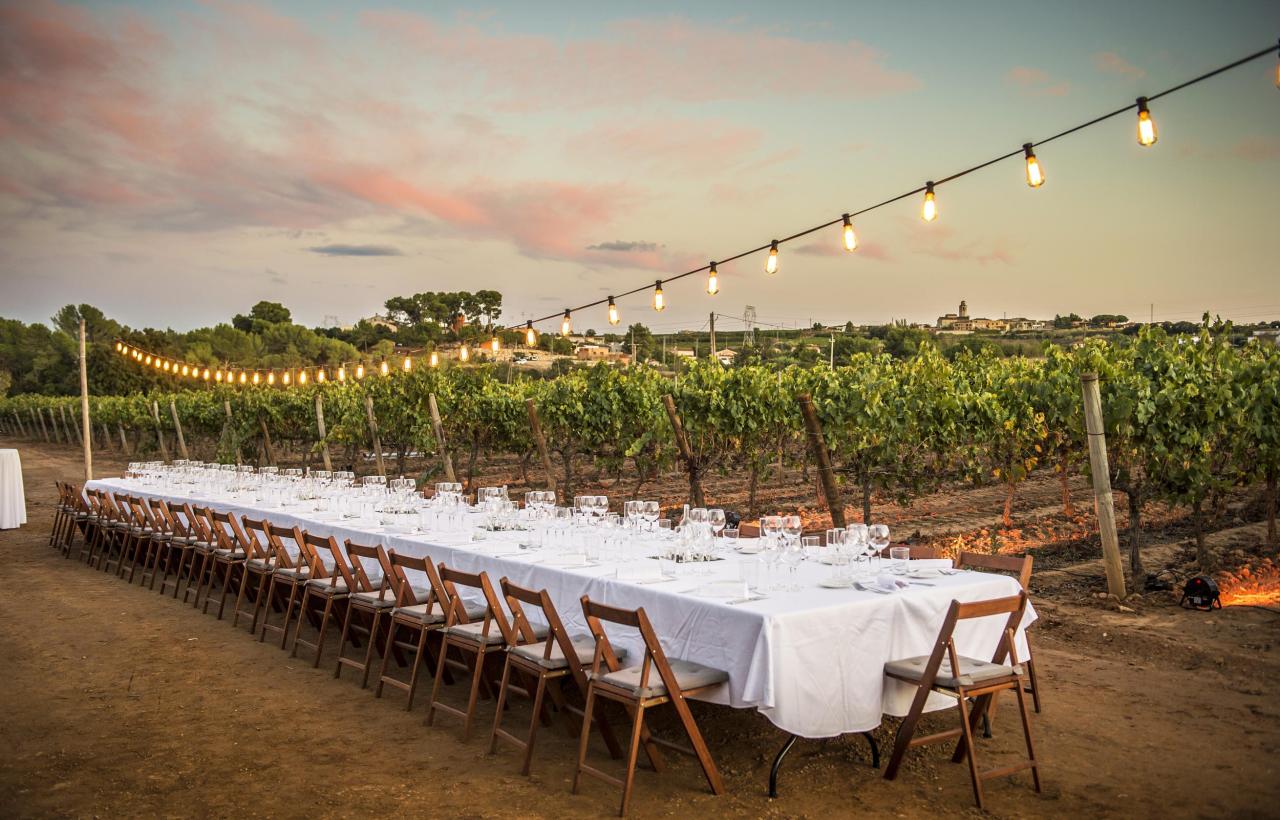 Penedès has is a wide range of options to organize a company meeting or a private event. Located in a rural environment, with a more slow-life approach, it is a great destination for meetings, conventions and work sessions, but also for the after-the-meeting leisure moments, with experiences mainly related to wine culture .
Penedès Events web section gathers all the venues and services of the Wine Route where you can host company meetings, events, incentives and private celebrations in the heart of Penedès, just 40 minutes from Barcelona and Tarragona. We are part of the Barcelona Convention Bureau, which offers the possibilities of the Penedès area and its surroundings within the city's catalog, as a non-urban option for corporate events. 
A taylor-made corporate event
Undoubtedly, a new and pleasant work environment or an innovative format determines success. Find venues in Penedès for your next event, team-building activity, company party, corporate meeting in singular venues surrounded by vineyards. They are ready to organize any type of small and medium-sized event. The possibilities are many, because you will always find flexibility to personalize your event.
Our unique value are venues in wineries and rural farmhouses. You can find rooms with large views to the vineyards and natural light, locations in wine cellars full of barrels, private gardens, pergolas with views of Montserrat and farmhouses with stone walls that will take you back to ancient times. The capacity of these venues can range from 10 people, for small meetings, to more than 200, for large conventions, gala dinners and celebrations, always with a great ability to adapt to your needs .
In addition to venues in wineries, Penedès also has auditoriums, restaurant and hotel halls and buildings with an relevant cultural heritage. In all cases, they are managed by people who have been working for years not only in wine tourism, but also offering the services and attention required by the corporate client.
The Family event and the Christmas Meeting Venue
There are very special occasions, family events such as anniversaries, weddings or other important dates that require a special place to celebrate them. For companies and businesses, there is a time of the year for the staff meeting or the Christmas Office Party. Find venues to celebrate, getaway and gather.
Just simply imagine an outdoor vineyard setting, a room in a cellar, high-level gastronomy and great Penedès wines. The memories will be unforgettable. 
Incentive trips and activities in Penedès
An incentive trip is a valuable tool for motivating workers and clients, to reward top performers or to share values and objectives. We have great ideas for incentive trips! Fun and exciting experiences very related to our every-day lifestyle, like electric bike routes around the vineyards, driving vintage cars, make-your-own-wine workshops and wine tasting sessions.
And from August to October, it is all about teamwork, when you can enrol in harvest activities: picking and tasting grapes straight from the vine and stomping them!  We are always open to original incentives, capable to surprise and fulfill the objectives.