Mas Rodó
Wine cellar or Cava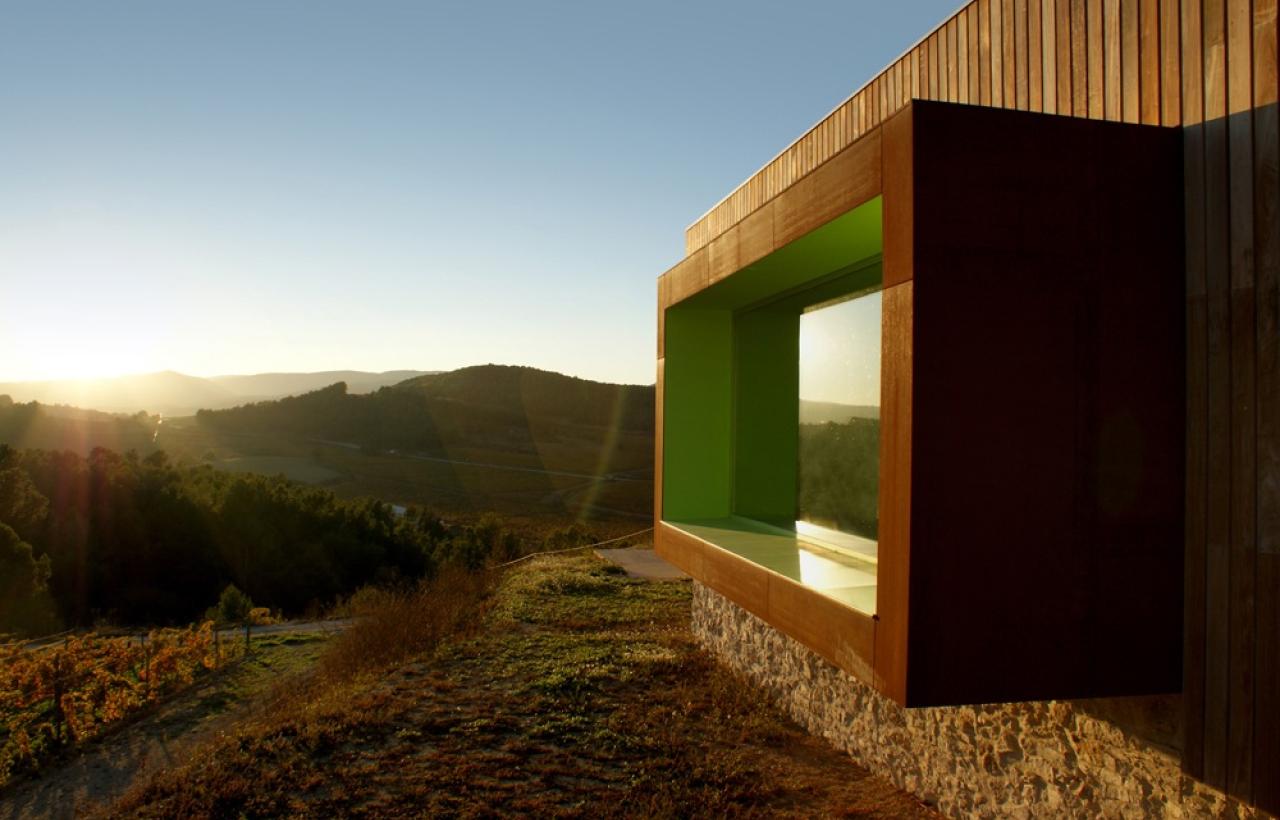 The buildings are an extension on the original MAS RODÓ building, a Casa Pairal, or Manor house, dating back to the 13th century. The newer structures have been built upon the existing remains, including a warehouse supported on the old masonry footings, designed to integrate with the context while adapting it to the new use. The facade of wood and steel seeks complicity with the natural and historical environment, while avoiding mimicry, and aims to integrate with the más through contemporary construction and techniques. The interior, however, reflects a much more extravagant image. The green colour of the vines is the perfect base upon which to present a consolidated image. It is a luminescent, identifying colour, filtered through two points: the window, and the porch; and it illustrates the relationship of the vineyard and the wine, which is to say, the exterior – the field – and the interior – the cellar. The warehouse regenerates old spaces but also creates new ones, and puts the latest technology in the service of wine production. The MAS RODÓ winery was a finalist in the Second Edition of the "Living with Wood" awards granted by the Spanish Council for the Promotion of Wood and Arquin-Fad , with sponsorship from the Spanish Ministry of Science.
Meeting and incentive space: The winery becomes an ideal space for those creative meetings with your team or other departments of your company. A space to disconnect and reinvent yourself, to create the most positive synergies among all members. We have cozy interior spaces for up to 50 people and exterior spaces that leave no one indifferent.
Space for product presentation: A stage to enhance the beauty and qualities of those products that you have created and that will allow you to create the ideal environment to boost sales with your clients or take the perfect photographs in an idyllic setting for future promotions.
Celebrations: Do you like wine, nature and architecture? If the answer is yes, this is your place to spend an unforgettable day. Interior spaces of up to 50 people and exterior spaces with more capacity that will amaze you.
All these events can be complemented with food and coffee service through specialized caterings, activities such as visits to the winery, tastings with sommeliers, pairings, Nordic walking routes, yoga, cooking workshop, show cooking, and a great etcetera.
Contact
Contact person
Georgina Saumell
Address
Ctra. de Sant Pere Sacarrera a Sant Joan de Mediona, km 2
08773 Barcelona
Spain
Mas Rodó Cellar
No
Yes
Yes
Capacity
Up to 10 people
10 to 25 people
25 to 50 people
Serveis
Incentives and activities after meeting
Catering service
Languages of attention
English
Spanish
French
Italian
Recursos
Screen and projector
Computer available for presentations